Madeline was watching TV yesterday. I was in another room.
"Mom, come quick!" she yelled.
I thought something was wrong, so I ran to her side. She was fine. She wanted to show me the below video, and I'm so glad she did.
Have you seen it? It's airing on The Disney Channel.
I love it! Thank you, Disney! Thank you, Zach!
And have you visited Life is Like a Box of Chocolates lately?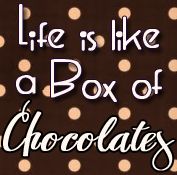 There's a fun contest going on! Misty is giving away some great stuff! Go
here
to enter!