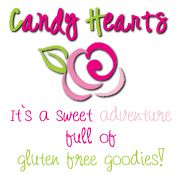 Today's guest blogger is Wendy from

Candy Hearts

.
Wendy is not only my blogging friend, but she's my friend in real life, and my kids are friends with her kids. Let me tell you she's just as awesome in real life as she appears to be on
Candy Hearts
.
Regardless of whether I'm reading Wendy's blog, we're chatting over dinner or we're spending time at the park, I can relate to Wendy. We find similar things humorous and we laugh together (I love that we laugh a lot together!). We commiserate with one another. We think alike and share similar sentiments.
The blog post below is no exception. I can
so
relate to the guilt she harbors, and the letter she's written to her eight-year-old daughter, Sugar, is one that I could have written to Jack.
Wendy, thanks so much for sharing here at D-Tales!
---
Sugar
Guilt.
Not MY guilt. Though I'm always fearful that my best efforts are letting down the people I love. That somehow I'm not "measuring up" to be the wife my husband thought he was marrying…or the fact that I try to keep my house somewhat tidy means that I don't love my kids because I'm not spending every waking moment indulging them…or the fact that we get by with (and are thankful for) "hand-me-down" clothes and toys means that I somehow don't want the best for my girls…or the fact that my kids aren't participating in every possible extracurricular activity means that I'm not allowing them to discover hidden talents…just a constant feeling that I'm not doing a "good enough" job at this game of LIFE…
Yeah, I've got Life Guilt. But I've got Diabetes Guilt too.
When she's 400 (or, ehum, higher), I immediately blame myself. Did I miss something? If she's low, I immediately worry it's because I overdosed her. When we're having a roller coaster day, my mind spins and spins…because I must be doing SOMETHING wrong.
So I don't sleep much. I don't read much. I don't sit and watch TV much. I think…and think…and think…
And feel guiltier and guiltier and guiltier.
Oh, but back to this post. Like I said…it's not about MY GUILT. What about her? I wonder what she must think while the meter ticks down and my face shows that it's a number I'm not happy with. I wonder what she must think when she hears her mommy and daddy talking about her numbers and shaking our heads. I wonder what goes through her little mind when she knows it's been a hard diabetes night and I'm tired.
So, I'd like to make myself feel better by telling Sugar a few things.
FYI ... It's nearly 1 am – I certainly can't wake her at this hour. I don't know if she'll ever read this, but it'll be part of blog history…just in case…
Dear Sugar,
I am so proud of you. I want you to know that I will always be proud of you – no matter what. Even if you didn't have diabetes, I would still be proud of you.
Diabetes does not define the wonderful person you are. You are such a wonderful sister and an amazing daughter. Mommy and Daddy are so blessed to have you for our little girl. Your grandparents love you beyond measure – I'll never forget the beautiful birth announcement Pink Grandma and Bob made to announce to the world that you had arrived!
You have a fighting spirit and an infectious smile. Everyone who meets you, falls in love with you. I can't say that I blame them. You are compassionate, giving, and loving to others. You have a heart of gold that makes us so incredibly proud.
I know you don't understand why Mommy and Daddy seem to work so hard at dealing with diabetes. That's okay, Baby. I don't want you to understand all that right now. Right now, I just want you to be 8. I want you to keep making funny observations about the world around you. I want you to keep learning something new every day. I want your imagination to keep flourishing.
I promise that I will never be angry with you because you have diabetes. I might get upset when you don't clean your room…but I'll never be upset that we need to check your blood sugar.
We're in this together…it's our journey and we're a team. No matter what that meter says, I just want you know that I think you're terrific.
I love you.